Zelené smoothie si pomalu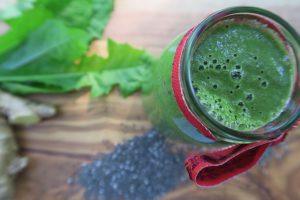 , ale jistě získává své místo na slunci i u nás v ČR. Tento trend vitálního stravování, pocházející z USA (Victoria Boutenko), objevuje stále více a více lidí v západní Evropě. Jedno je jisté, síla divokých bylin v podobě mixovaného nápoje tě může velmi rychle uvést na cestu k vitalitě a lepší kvalitě života.
Ačkoliv zní vše skvěle a růžově nebo spíše zeleně, příprava zeleného smoothie skýtá některá úskalí a při jeho mixování je možné udělat mnoho chyb, které nováčky zaručeně odradí. Následky nesprávné přípravy nejsou nikterak životu nebezpečné, ale mohou nám zavřít cestu k plnému využití potenciálu, který zelené smoothie skýtá.
1. Smoothie a kořenová zelenina
Vše co roste pod zemí např. celer, mrkev, brambory, pastyňák, řepa nebo červená řepa nepatří do zeleného smoothie. Kořenová zelenina obsahuje škrob (cukry s dlouhým řetězcem), který potřebuje více času ke strávení. Když jíme škrob společně s ovocem může tak docházet k nadýmání.
2. Pít zelené smoothie jako vodu nebo pivo
Zelené smoothie je kompletní a plnohodnotné jídlo. První část trávicícho procesu začíná již v ústech kousáním a nasliněním (enzym amyláza). To zaručuje lepší příjem vitálních látek do našeho těla. První 2 – 3 hlty jsou velmi důležité a měly by být 10 – 20 x v ústech pokousány.
3. Hned zpočátku pít 1 – 2l zeleného smoothie denně
Je nám jasné, že jsi motivovaný/á na maximum a chceš ze zeleného smoothie dostat rychle opravdu vše, ale zde je potřeba říci, že hodně nemusí vždy hodně pomoci. Pokud se dávka na začátku přežene, může tvé tělo reagovat podrážděně a dostaví se nepříjemný pocit a nepříjemné "detoxikační" příznaky.
Raději začni  s 1 – 2 sklenicemi denně a 1 – 2 týdny pečlivě pozoruj reakce tvého těla. Když budeš vše snášet dobře, můžeš začít dávku zvyšovat.
4. Pít zelené smoothie po těžkém jídle
Zelené smoothie je velmi snadno stravitelné a mělo by být užíváno samo o sobě. V horším případě piješ své smoothie po "vepřu-knedlu-zelu". V tomto případě začne ovoce v tvém střevě kvasit. Následkem toho je nadýmání a další trávicí potíže.
5. Uchovávat zelené smoothie v PET a hliníkových lahvích
Plastové lahve (také BPA-Free) a hliníkové termosky je snadnější převážet, ale když necháme smoothie v takové nádobě déle než 1 den, rozhodně se změní jeho chuť. Dále se z PET lahví uvolňují mikročástice, které nepůsobí na naše zdraví dobře (xenohormony). Zvláště, když lahev vymýváme horkou vodou. Pokud hledáš nějakou vhodnou alternativu k plastu tak se zkus podívat zde.
6. Používat pouze světle zelené saláty a zelí
Základem úspěchu zelené smoothie je chlorofyl – zelené rostlinné barvivo. Salát, čínské zelí a další podobná zelenina neobsahují dostatečné množství chlorofylu. Zelené barvivo roostlin je velmi podobné našemu hemoglobinu a je látkou s nejvyšším ozdravným účinkem na náš organizmus. Pokud jste ještě neobjevily svět divokých bylin (kopřiva, bršlice, jitrocel, ptačinec) sáhněte po kadeřávku. Z kulturní zeleniny je to nejlepší varianta pro zelené smoothie.
Pozor na vzrostlý špenát
Špenát je do zelených smoothie velmi vhodný. Ale jen dokud je mladý. Vzrostlé rostliny špenátu obsahují velké množství kyseliny šťavelové, která při pravidelném užívání může vést k poškození ledvin.
7. Příprava zeleného smoothie tyčovým mixérem
Tyčové mixéry jsou velmi oblíbené a hodí se skvěle k přípravě polévek, ale ne k mixování zeleného smoothie. Příprava trvá velmi dlouho. Důvodem je nedostačující výkon, nože, které se nehodí k mixování vlákenaté zeleniny a platový kryt zamezující dostatečnému promixování obsahu. Smoothie proto zůstává plné vláken a chuťový zážitek není plně uspokojující. Pro začátek použij raději stolní mixér nejlépe pak mixér s vysokým výkonem.
O síle zelených nápojů jsme skálopevně přesvědčeni. Vyhni se proto i ty těm nejčastějším chybám a vem vše hned od začátku za správný konec!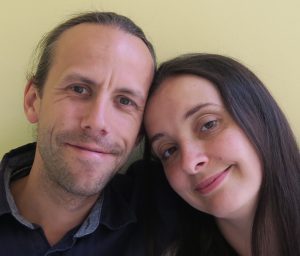 Dobrou chuť a vše dobré ti přejí
Štěpán a Melanie